Gue akhir-akhir ini demen cowok-cowok keriting semenjak ngeliat Michael Cera dan temen gue yang satu tempat les.
Well, they're look so cute with their messy hair
Ok, biar ga banyak bacot menurut gue beberapa cowok lucu dengan rambut keritingnya adalah:
MICHAEL CERA
Michael (Austin) Cera (22) cowok keriting favorit gue akhir-akhir ini. Pertama kali gue kenal dia lewat film Juno yang main sama Ellen Page. Di filmnya, dia jadi sahabatnya Juno, yaitu Paulie Bleeker yang ngehamilin sahabatnya sendiri. Mukanya pas di Juno lempeng dan culun, lemah, sampe-sampe difilmnya itu orang-orang pada ga percaya kalau dia bisa ngehamilin orang
. Well, but that's not Cera in real life (maybe). Envy bener gue sama Ellen Page abis liat film itu hahaha
. Yaa, namanya juga artis toh.
Tapi, difilm yang beda, Superbad, Cera juga meranin peran yang sama dengan orang yang culun, lemah, dan ga punya pacar
, oke mungkin muka polosnya dan suaranya yang agak kecewek-cewek-an lebih mendukung dia jadi orang yang culun, jomblo, dan lemah
(Ok, ga disemua film dia begitu kok).
Tahun ini filmnya yang terbaru, Scott Pilgrim vs The world baru dirilis. PENASARAN liat peran apakah yang ia dapatkan? culun lagi? keliatannya iya
. And, who's the next lucky girl whom play with him?
Mary Elizabeth Winstead
Yeah, yakin pasti abis gue nonton Scott Pilgrim nanti, gue pasti iri sama Michael Cera. Eh, maksud gue, gue pasti jadi iri sama Mary Elizabeth. Yeah, gak apa-apa sih, seksi soalnya -_-"
Uwooo D' you really like Banana or... you're very hungry, aren't you?
Jesse Eisenberg
First impression when I saw Jesse (26) is : Cute
Well, first time i saw him in Adventureland, with Kristen Stewart.
Terus secara gak sengaja, gue nonton filmnya yaitu Zombieland pas liburan akhir-akhir ini..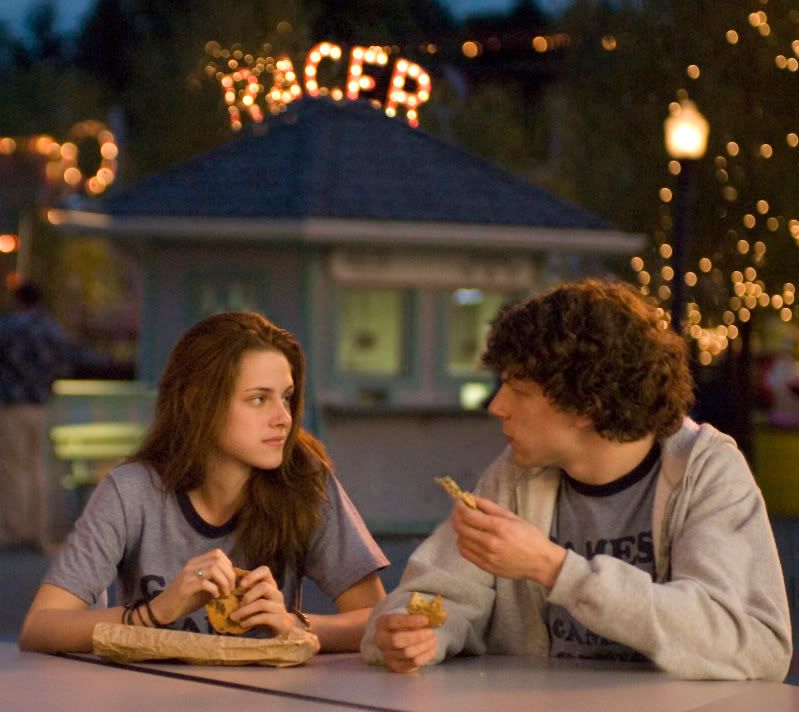 Gue rada envy juga ngeliat Jesse dan Kristen Stewart atau Emma Stone yang beradegan.... hmm
Jesse lebih jantan dilihat dari peran-perannya ketimbang Michael Cera
. Walau emang tampangnya juag lebih 'kasar' daripada Cera. Tapi tetep aja gue envy kalo ngeliat dia beradegan yaaaa you know lah sama cewek-cewek cantik. Oke, namanya juga artis... Fans harus ikhlas aja deh
Michael Penniman
Michael Penniman (Michael Holbrook Penniman. Jr) also known as Mika (27) is one them.
Penyanyi British pelantun (cheilah) tembang Grace Kelly ini emang lumayan lucu sih menurut gue. Tapi random. Kadang-kadang terlihat lucu, kadang-kadang terlihat enggak
. (Kadang-kadang terlihat kontrol, kadang-kadang enggak), Just like diz picture laaah
------>>>>
Gue pertama kali denger lagunya itu yang Lollipop, di Albumnya yang Life in Cartoon Motion, pas jaman SMP. Terus merambah ke Grace Kelly, dan albumnya yang terakhir itu The boy who knew too much. Tapi gara-gara ada iklan yang pake soundtracknya Mika, gue jadi inget dia keriting juga, jadi gue masukin aja daripada ga ada bahan buat posting
. Cowok turunan Lebanon ini sih waktu itu rada kontroversial gara-gara dikira homo gara-gara lagunya yg judulnya Billy Brown ttg seorang lelaki yang Biseksual.
Yeah, hanya dia dan pasangannya, dan tuhan yang tahu mahluk macam apa dia
. Masalah privasi sih emang ga boleh banyak orang yang tahu yee..
<------
Semoga aja orang ini adalah The real man. Straight Man. Cowok tulen, Cowok yang berada dijalan yang lurus. Amin.
Btw, gue suka sama video klipnya yang Lollipop. So Colourful and eye catching. Konsep album-albumnya dia keliatan childish and more colourful (hahaha gue ngomong apa sih). Suaranya yang kadang-kadang bikin pengen ketawa karena melengking-melingking agak lebay gitu, tapi lumayan bisa bikin mood naik.
Dia curhat di beberapa lagunya tentang masa kelamnya disekolah dulu karena dia dulu adalah korban bully disekolah... Ok, sabar aje ya mas bro. Semua orang punya masa-masa suram kok
____________________________________________________________________________
So, any suggestion?
Well, I think being Curly is pretty handsome
XOXO